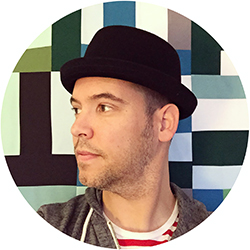 ARTIST'S STATEMENT
Recently my art has been inspired by the controlled chaos and dichotomy of urban environments.
I have always felt more at home in the hustle, bustle, and crowds of cities, even though I would call myself an introvert. Cities are controlled and regulated, yet they can be very chaotic and organic. Most cities are organized in to "blocks", yet within these containers there are chaotic and contrasting urban elements, such as power lines, graffiti, nature, crumbling concrete, walls with torn posters, billboards, nature, wealth, poverty…
These dichotomies inspire my art.

BIO
I've enjoyed working with my hands and being creative from a young age. I have a university degree in graphic design and have worked professionally for 20 years. I am an avid knitter and photographer. I currently live in Cincinnati working as a graphic designer and teaching a high school color guard. I create art in my free time.